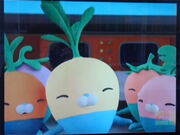 The Vegimals are little cute creatures, half vegetable, and half animal. All of them enjoy cooking, gardening, and helping the other Octonauts whenever they can. The Vegimals include: Tunip the turnip, Barrot the carrot, Grouber the eggplant, Codish the radish, and Tominnow the tomato. They speak vegimalese, their own special language. So far, Shellington has been the only one who can understand what they are saying. You can almost always find them in the Octopod's kitchen, where they like to bake fish biscuits and kelp cakes, or in the Octopod's garden where they can water the plants, fruits, and veggies. The Vegimals also seem to like helping Tweak (Bunny) fix and build things, and the (Octopod) Gym, where they have a Ping-Pong table, and enjoy playing a quick game whenever they want. All together there are 13 vegimals. There were 7 vegimals in the garden and Tunip (number 8) was in the HQ with the rest of the Octonauts.
Other Possible Vegimals
In the episode "The Octonauts and the Bowhead Whales", about 5-6 min. into the show, there is a green Vegimal in the Gup-C with Dashi. It has a Green body, but it has the same top as Tominnow. It may have been a flaw in the color on the episode though. When Dashi released the Vegimals into the water to help, the green one did not come out.
In the episode The Octonauts and the Great White Shark the green vegimal is seen again cooking with the red vegimal so it might not be a color flaw after all.
Also in the episode The Octonauts and the Great White Shark a blue vegimal is seen behind the purple vegimal. It had the same top as the purple vegimal but could not have been a flaw since it was seen next to the purple vegimal. Also in the Episode The Octonauts and the Bowhead Whales it is seen again in the Gup-C along with Dashi and a green vegimal.
Vegimal Name List
Tunip: leader of the vegimals, Ship's Cook and Gardener
Barrot:
Tominnow:
Grouber:
Codish:
Sharchini
Perchkin
Halibeet
Yamchovy
Wallabaga
Pikato
Charchard
Maccoli
Carprika
Albachoy
Salepeño
Vegi-Bot
Gallery
Video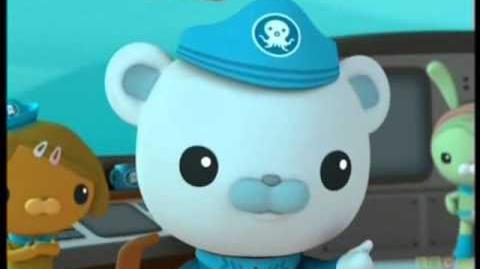 Ad blocker interference detected!
Wikia is a free-to-use site that makes money from advertising. We have a modified experience for viewers using ad blockers

Wikia is not accessible if you've made further modifications. Remove the custom ad blocker rule(s) and the page will load as expected.